About the examination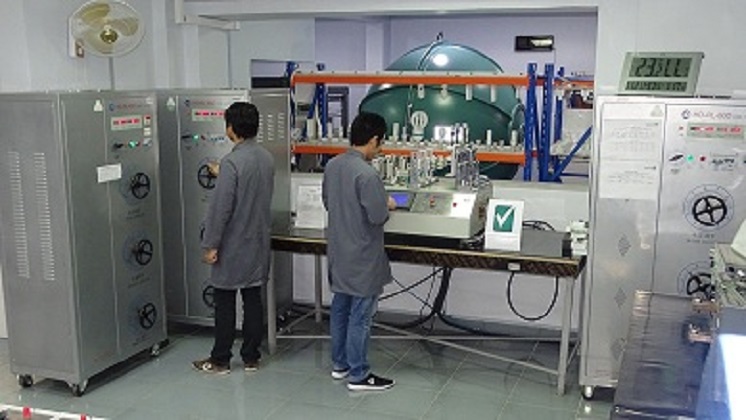 1- Scope

The Quality Manual describes the policies, objective, procedures and operations complying with requirements of these Standards :

ISO/IEC 17025:2017;

ISO/IEC 17020:2012;

ISO/IEC 17065:2012 and

Regulations.

The scope of the SAITCO ITC is determined by providing Inspection, testing , issue of certificates of conformity (certification) , the management of laboratories , centers for the withdrawal , receipt of samples , testing of goods produced locally and imported or presented in markets or stored in warehouses or factories and cases of suspected commercial fraud , In accordance with its Commercial Registration No. 1010297974 dated 25/12/1431 Hijri at its main location in Riyadh - 1st Industrial Zone - 4-5-6-7, or its branch in the People's Republic of China – Quanzhou ,Commercial Register No. 991440101MA5AU1BX16 dated 27/4/2018.

Which certified from the Consulate General of Saudi Arabia – Quanzhou under No. 254/2/100090 and the date 13/9/1439 Hijri

First:

SAITCO TL 's carry out Testing activities in accordance with ISO IEC 17025 , and introduce technical consultation services for the following product tests:

-Electrical, electronic, lighting fixtures, cables, household appliances and power efficiency for the electrical lab.

-Textile and Carpets products for Textile Lab.

-General products for Footwear, leather, paper and other product which included in general products.

- The list of tests for each lab in the Annex Book.

Generally, SAITCO is unconcerned by sampling process, but carried out by the Customs department, but in the case of an external client can submit a request to the lab, and will prepare a plan and procedures for sampling process according to the standard ISO 2859-1 laws sampling in order to control the attribute that should be on the site where the sampling carried out to be based on appropriate statistical methods.

The Scope also includes any new lab that the SAITCO will establish later

Second:

SAITCO certifies the following products according to ISO IEC 17065 :

- Electrical and electronic appliances, lighting fixtures, cables and household appliances.

- Textiles and carpets

- Shoes, leather products, bags, paper and plastics.

The scope of work SAITCO complies with the aforementioned international standards and regulations, so it is intended that these criteria will ensure that SAITCO manages a third party reports and certification system in a consistent and reliable manner.

As an independent third party SAITCO ITC strives to provide services in accordance with accepted practices and internationally recognized guidelines.

All reports and certification services are provided on a cost-recovery basis with fees as nearly equal as possible to the actual cost of providing the service.

The Quality System for the SAITCO ITC operative Limited consists of the SAITCO Quality Manual, procedures and related reports and certification documents detailed in the Document List.

The quality system of SAITCO is the program that will maintain an effective and reliable internal structure.

SAITCO ITC Quality Manual describes the Quality System, use by Managers, management, and staff and to provide information about the SAITCO to interested members of the public.

In order to reduce costs for publication and reduce waste from duplication of information, the SAITCO ITC Quality Manual contains the main information that would be found details in the Procedures.

Third:

Also SAITCO carry out inspection activities in accordance with ISO IEC 17020 and inspection schemes or contracts. , Inspection parameters include matters of quantity, quality, safety, fitness for purpose, and continued safety compliance of installations or systems in operation.

Activities of inspection covers work can include the Inspection of electrical or electronic materials or products , Textile products, carpets, paper, rubber and leather products from shoes, bags and plastics in terms of design, manufacture, packaging and / or transport and related other processes as tests, examinations, processes, procedures or work services, and the determination of their conformity with requirements and the subsequent reporting of results of these activities to clients and, when required, to authorities.

2-2. GCC Technical Regulation on

Children Toys ( BD-131704-01)

GCC Standardization Organization

GSO

- This Directive shall apply to products (hereinbefore referred to as toys in article 1).

- The products listed in Annex I shall not be considered as toys within the meaning of this

Directive.

- This Directive shall not apply to the following toys:

(a) playground equipment intended for public use;

(b) automatic playing machines, whether coin operated or not, intended for public use;

(c) toy vehicles equipped with combustion engines;

(d) toy steam engines; and

(e) slings and catapults.

Product safety tests are applied according to each regulation

A-LVD Products

1-المتطلبات الأساسية

2-الوقاية من الأخطار التي تنشأ من الأجهزة الكهربائية

3-الوقاية من الأخطار التي تكون نتيجة لمؤثرات خارجية على الأجهزة الكهربائية

4- متطلبات التوافق الكهرومغناطيسي

1. Essential requirements

2. Protection against hazards arising from the electrical equipment

3. Protection against hazards, which may be caused by external influences on the electrical equipment

4. Requirements for electromagnetic compatibility

(EMC)

ب-منتجات لعب الأطفال

B-Toys Products

1-الخصائص الفيزيائية والميكانيكية

2-القابلية للاشتعال

3-الخصائص الكيميائية

4-الخصائص الكهربائية

I. Physical and Mechanical Properties

II. Flammability

III. Chemical Properties

IV. Electrical Properties




3-ROLES & RESPONSIBILITIES

Where the Gulf Technical Regulations are built-on concepts developed in Europe, such as the clear definition of roles, duties and obligations of "economic operators" at different stages of the supply chain: manufacturer, authorized representative, importer and distributor.

So the GSO Technical Regulations represent a major shift from the inspection-based national import control mechanisms to full compliance requirements in the premarket, marketing and post-market stages of product retailing. The same requirements apply to all products - whether imported into or manufactured within the Gulf countries.

Accordingly, it is essential to understand the legal definitions and obligations laid out in the Regulations.

For more information , see :

Gulf Technical Regulation for Low Voltage Electrical Equipment and Appliances ( BD-142004-01)

Article (8): Obligations of the Manufacturer

Article (9): Obligations of the Authorized Representative

Article (10): Obligations of the Importer

Article (11): Obligations of the Distributor

Article (12): Cases in which obligations of the Manufacturer apply to the Importer and the Distributor

Article (13): Identification of economic operators

Also for GCC Technical Regulation on

Children Toys ( BD-131704-01)

OBLIGATIONS OF ECONOMIC OPERATORS.

ARTICLE (4): OBLIGATIONS OF MANUFACTURERS

ARTICLE (5): AUTHORIZED REPRESENTATIVE

ARTICLE (6): OBLIGATIONS OF IMPORTER ARTICLE (7): OBLIGATIONS OF DISTRIBUTOR

ARTICLE (8): CASES IN WHICH OBLIGATIONS OF THE MANUFACTURER APPLY TO THE IMPORTER AND THE DISTRIBUTOR

ARTICLE (9): IDENTIFICATION OF ECONOMIC OPERATORS

4-Certification Procedures:

Based on ISO 17065:2012 , and GSO scheme, Procedure will be performed as following:

Submission of the application

Review the application

Evaluation: Product evaluation

Review

Decision

Issuing and certifying the certificate

* Scheme does not include surveillance of the product.

Renewal of the certificate

4-1-Preparatory Steps:

4-1-1 Self- Assessment checklist and application Form shall be submitted by applicant to SAITCO , submission

can be done via SAITCO CB affordable communication methods ( emails or website , hard copy)

4-1-2 Primary administrative reviewer will review it to check documents availability on a primary basis

4-1-3 A Specific and / or customary quotation sent to applicant by finance manager after reviewing the SAITCO management; containing the scope of certification and fees related to certification process.

4-1-4: Certification fees: 1000: 1500$ or equivalent by Saudi currency (for LVD products & Toys), depend on the type and No. of tests of testing for each model- not included power efficiency - .

Fee of registration and Technical review are 500$ or equivalent by Saudi currency for three years for each model

Certificate issuance fees are periodically reviewed and advertised for all.

4-1-5 All tests performed on the sample are evaluated by SAITCO laboratories. In the case of subcontracting, the customer is notified before starting the rest of the procedures.

4-2. Application Review

4-2-1 Upon acceptance of quotation by client, he is requested to Sign the Certification agreement and pay the amount.

4-2-2 Application along with related supportive documents will be received by SAITCO Conformity

4-2-3 Conformity Manager assign one of SAITCO technical team members as an Evaluator or Auditor

4-3Application Evaluation

4-3-1reviewing :

Conformity manager or his designee perform conformity assessment (Evaluation) steps related to the certification scheme (Product Certification):

1- Detailed documents review for all the documents presented by applicant.

2- Document review includes the check up for Test Reports parameters and results, done SAITCO Lab. according to the specific technical regulations and applicable standards.

3- Evaluate product eligibility for a certificate to ensure compliance in accordance with applicable scheme and standards.

4-3-2 Evaluation Outcome results:

• If evaluation is pending for missing or invalid documents or other needed information to complete evaluation; Additional Supportive Documents will be requested by Applicant.

• Evaluation includes Product Safety Verification through test reports provided on all safety Test parameters requested by applicable scheme/standards, test reports shall be issued by 3rd party accredited Laboratory sub-contracted according to the approved Standards and applicable technical requirements.

• If test reports are not complying with Standards; Conformity Manager/Assessor requests rectification of the non-complying aspects, then based on applicant confirmation of rectification, collection of samples will be done to conduct the same laboratory tests again and for once.

• Evaluation will be repeated upon applicant re-submission of needed documents/information.

4-4- Decision of Certification:

Upon submission of this information, and as per the result of documents review and completing product evaluation process, The recommendation follows: -

4-4-1. Recommendation of approval of Product certification: Product evaluation shows full compliance with applicable schemes/standards:

• Application is initially approved by Conformity Manager/Assessor

• Recommendation for certification approval will be made by Conformity Manager

• Certification decision will be done by SAITCO CB Manager or his deputy.

• Granting the issuance of Certificate of conformity, recognized by scheme owner(GSO)

• Certified Products will be listed in SAITCO Certified Products registry

4-4-2 Recommendation of rejection of Product certification: Product evaluation shows non-compliance with applicable schemes/standards, due to any reason preventing product from Certification:

• Application is declined by Conformity Manager/evaluator.

• Recommendation for certification rejection will be made by Conformity Manager

• Rejection decision will be done by GM or DGM

• SAITCO will inform client by an official rejection statement (Letter of certification status) by e-mail stating the reason of rejection.

• SAITCO will inform GSO by the rejected product /s and the reasons to take the necessary procedures.

4-4-3 Changes affecting certification

SAITCO CB when introduces new or revised requirements that affect the client, it ensure these changes are communicated to all clients.

SAITCO CB consider other changes affecting certification, including changes initiated by the client.

4-4-5 Termination, reduction, suspension or withdrawal of certification

When a nonconformity with certification requirements is substantiated for any reason, SAITCO CB consider and decide upon the appropriate action.

If certification is terminated (by request of the client), suspended or withdrawn or if a decision to reduce the scope of certification is made, the SAITCO CB take actions specified by the certification scheme and all necessary modifications to formal certification documents, public information, authorizations for use of marks, etc., in order to ensure it provides no indication that the product continues to be certified, also in case of reducing the Scope.

4-4-6 Surveillance Procedure

The applicant is required to make technical review for the citified product annually or at requested to ensure that they conform to the standards and requirements, and in case of non-response, scheme owner (GSO) shall be notified

.

4-5 clients Requirements :

• For some scopes where it is required to have a quality system available, clients seeking to be certified for their Products to Schemes and applicable standards through SAITCO are requested to implement relevant Quality System including documentation in a way to meet all requirements of relevant standards.

• In case of a client newly operating, and seeking to be certified, Client is required to demonstrate more than 3 months compliance against the standard immediately preceding the date of the Pre-Assessment performed by SAITCO. This will prove the efficacy and sustainability of the implemented system. After which SAITCO will be contacted to make arrangements for required audits and Certification.

• Client seeking extension or renewal of Certification scope shall as well submit the self- assessment checklist specifying the extension or renewal of the Certification scope.

• Whenever applicable, Additional Certification requirements per Certification schemes:

-Legal, Quality documents (such as Client Quality Manual) and supportive documents (records and checklists used by applicant), These documents be attached to the Self-Assessment Checklist requirements and submitted along with the application as well.

Note: for the G MARK, only the legal entity documents and the documents of the product to be certified.

4.6 Duration of procedures of certification.

The duration of the procedures for obtaining the product certificate shall be determined according to the scope of certification, testing and / or the inspection, usually from a maximum of 15:20 days from the beginning of the application until the issuance of the certificate.

4-7 Complaints and Appeals

• Client have the all rights of complaints and appeals

4-8 Renewal of Product Certification:

• Validity of certificate is three years,

• Maintaining all record for ten Years.

• Certificate should be renewed 2 months prior expiry.
;